IMPISH is the story of a young lawyer named Travis, who accidently sells his soul to Satan in exchange for financial gain and some luck with the women.
The devil is a little too backed up with attorneys, so Travis is instead assigned an Imp to help him with his endeavors, and Hell literally breaks loose. What follows is a hilarious—at times outrageous—adventure as Travis and his Imp try to break free from the clutches of eternal damnation.
PRAISE FOR IMPISH
Hibbard is in top form with this clever mash-up of horror and comedy. Not to be missed!
-Aleatoire Magazine

A rollicking roller-coaster ride of HELLISH proportions!
-Trev Marshal, author of The Storm

You will find the characters, plot and action intriguing, fun, whacky at times and in the end satisfying. If you don't want a fun, entertaining read, don't squander your Kindle buck here!
-James Kirk, author of The Perfect Meal

Wickedly Dark and Funny!
-JanelleKeaner

A cross between John Grisham and Beetlejuice or like [Shaun]-of-the-Dead humor.
-Melysah

[IMPISH] is hilarious.
-ReaderMeader

[IMPISH] has the funniest...bar none...the funniest depiction of zombies I have ever read.
-Lolo
$3.99 Kindle ebook
•
Print version from Amazon
• $2.99 Sony ebook •
$3.99 Nook ebook
• $2.99 iTunes ebook • Kobo •
Autographed Copy
•
BN.com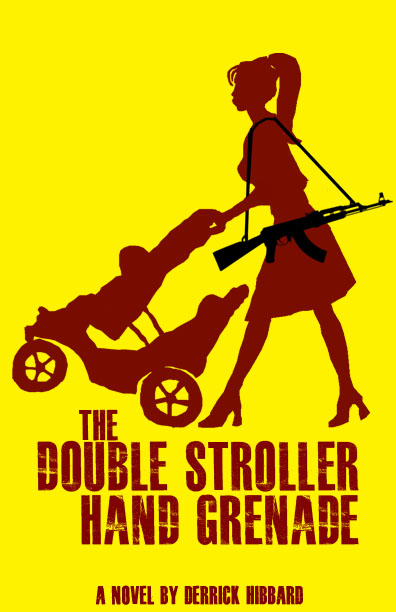 The Double Stroller Hand Grenade
Peter Wilcox is a bright-eyed and fluffy-tailed new attorney, who witnesses the "hit" of the managing partner in his law firm. Because of this inadvertent run-in and supposed link with the mafia, Peter can't find another job anywhere and is forced to tend his kids full-time while his wife, Alison, brings home the bacon. Peter hates the new job: His young kids are a whirlwind of destruction wherever they go, his daughter suffers from a crippling fear of an imaginary alligator, and he and Alison seem to be growing further and further apart as she works long hours.
As it turns out, Alison is not an interior designer, as Peter was led to believe, but is the assassin who killed Peter's boss—a fact that Peter is none-too-happy about—and things really get crazy when Alison's Mafioso peers decide that she is better off dead. What follows is a hilarious romp, as the emasculated Peter has to deal with a super-cool-femme-fatale of a wife, while he and his two kids are mercilessly thrust into a world of gangsters and professional hit men.
"A Wild Ride!"
—@Trev Marshall, author of "The Opening"
"…will make you wanna jump out of your seat and kick some butt!"
—@Izzy Gerber
"…akin to rolling down the windows on a cool summer night, blasting the music, and jamming the accelerator—pure, exciting, and unabashed fun!"
—@Lolo
"…the perfect escape novel…"
—@Greyson Blue
2.99 Kindle ebook
•
Print version from Amazon
• $2.99 Sony ebook • $2.99 Nook ebook • $2.99 iTunes ebook • Kobo •
BN.com
•
Autographed Copy
This Side of Eden
A small plane crashes in the icy waters of a lake set in the heart of Alaska.
A father and his two-year-old daughter are stranded alone in the wilderness with no food, no supplies, and no hope of rescue.
This is their story...
"Superb"
—@ Lolo
"Clever, Captivating, Brilliance… full of genuine, powerful emotion which resonates…"
—@N. Wallace
"An Instant Classic!"
—@Benjamin J. Markland
2.99 Kindle ebook
•
Print version from Amazon
• $2.99 Sony ebook • $2.99 Smashwords ebook • $2.99 iTunes ebook • Kobo •
Autographed Copy